Ailleron is a friendly work environment and a team of close-knit #AilleronExperts who enjoy coming to our offices and absorbing our unique and creative atmosphere, despite unlimited remote work opportunities. Of course, we've known this for a long time, but now we officially confirm it with a special award and the title of Friendly Workplace.
What is Friendly Workplace 2023 – "People First!"?
This is a prestigious award given by the editors of MarkaPracodawcy.pl to companies characterized by a modern approach to employees, with a strong focus on development, lasting and authentic relationships and work-life balance. The competition considers such aspects as relations with employees (including culture, values), employee development, approach to the work-life balance idea, health and safety in the workplace, benefits, awards and educational initiatives and social actions.
What makes us stand out?
Employee relations were particularly appreciated during the vote, where the editorial college recognized openness and mutual respect. The editorial college also highlighted our friendly work culture built on pillars such as passion, integrity, empathy, and the power of appreciation. These strengths make up our atmosphere and that every Aillerons contributes to. Our pro-development policy, reflected in several valuable training programs, such as the Ailleron Academy and Ailleron Power Up Camp, was also noted in the vote.
"We rate the company's activities in the sphere of work-life balance very highly. In particular, initiatives integrating the team and projects involving employees in ecology and healthy lifestyle (#Well-being challenge) deserve praise. Additional aspects deserving recognition are the company's and its employees' involvement in pro-social activities. These are topics to which we pay great attention. We commend the entire AILLERON team." – MarkaPracodawcy.pl.
As a company, we are very eager to share our knowledge and educate future IT professionals by holding a series of lectures at technical schools with IT profiles and meetings at universities of technology. We also support student projects such as, for example, cooperation with the AGH scientific circle on the project to build the 3-TTK probe rocket. This unique project had a multifaceted scientific character. During the flight, the effect of tranquilizers on shrimps was also studied because shrimps might be potential suppliers of nutrients for plants grown outside Earth. In doing so, we set our sights on developing young talents representing the industry's future.
Moreover, valuable and practical benefits are the foundation of our organizational culture. Each employee gets a good start with a medical care package, a sports card, insurance, access to the company library, and the opportunity to participate in language classes. These elements contribute to our success and, most importantly, translate into employee satisfaction.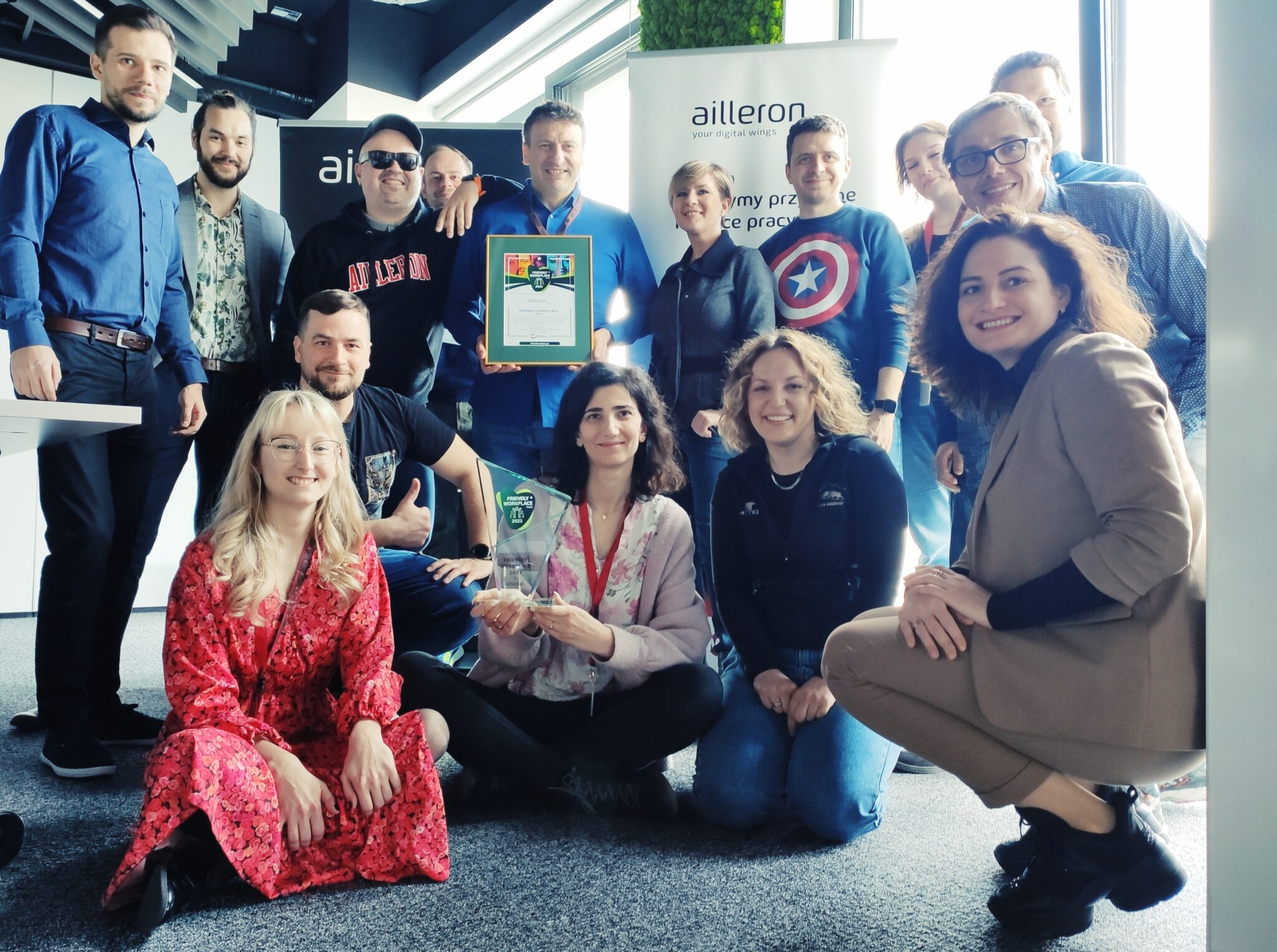 What are our plans for the future?  
"The award and recognition motivate us to continue our efforts. We continue to plan activities to develop our employees, such as through development talks, workshop work in career paths, or the development of leadership competencies. In addition, we are committed to building and strengthening a work-life fit environment so that our employees can realize the areas of their lives that are important to them, such as by adjusting their work model. We are also planning a series of activities aimed at building a healthy commitment to work and caring about ESG." – this is what Karolina Strzelczyk, Head of the People Department, says about plans for the coming months.
Despite the award we received, we are not resting on our laurels 😉 A few days ago we launched another program, #Well-being challenge 2023, in which we focus on mental health and drive sports activities. The next edition of the Ailleron Academy and the continuation of the proprietary Ailleron Power Up Camp program are also planned for the near future. In line with our values, we focus on passion, giving employees a wide range of opportunities to develop professionally and personally. Finally, we always thrive and support the You Can Count On Me Foundation, engaging in charitable activities.
Thank you!  
We want to thank the entire college of MarkaPracodawcy.pl for recognizing and appreciating our activities, actions, original programs, and daily efforts for the comfort and development of our employees. This is the entire company's success: managers, management, support departments, and employees who create this friendly environment every day. Aillerons, thank you!
Would you like to become part of our #AilleronExperts team?  
We are constantly looking for IT and other professionals for our projects and support or business department. So if you want to join our Ailleron- friendly workplace, don't hesitate and apply or contact us: https://careers.ailleron.com/. You are more than welcome! 🙂